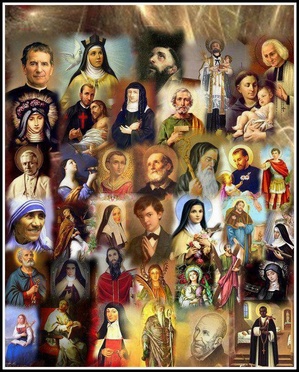 Let us all rejoice in the Lord, as we celebrate the feast day in honor of all the Saints, at whose festival the Angels rejoice and praise the Son of God. (Entrance Antiphon for Mass)
With the Church we pray,
Almighty ever-living God, by whose gift we venerate in one celebration the merits of all the Saints, bestow on us, we pray, through the prayers of so many intercessors, an abundance of the reconciliation with you for which we earnestly long.
The history of living the Gospel is filled with saints known and unknown: you might say anonymous saints who lend their witness to the symphony of those we have known to live and die for Christ. It is this feast of All Saints that the Church acknowledges the presence of those who are not venerated at the altar but nonetheless are making intercession before the throne of Grace. All the saints, known and unknown are those who lived a life of faith, hope and charity and therefore give us hope that in following the path given by Jesus is reasonable and worthy. These people who struggled and strove to live the gifts given by the Holy Spirit.