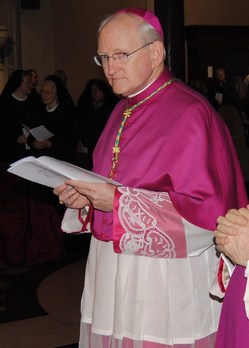 In a surprise given to the Church this morning, Pope Benedict announced his intention to name new cardinals in November. One of them is an American, Archbishop James Michael Harvey of Milwaukee who has been serving at the Apostolic Household as its Prefect for the last several years. These new cardinals lifts the numbers eligible to vote in a conclave to 122.
In announcing
the intention to create new cardinals, the Pope said: "The Cardinals have
the task of helping the Successor of Peter in the performance of his ministry
of confirming the brethren in the faith, and that of being the principle and
foundation of unity and communion of the Church … fulfill their ministry in the
service of the Holy See or as fathers and pastors of particular Churches in
various parts of the world."
The proposed list of new cardinals are
Archbishop James
Michael Harvey, 63, Prefect of the Pontifical House, who is also appointed
Archpriest of the Basilica of Saint Paul outside the Walls,
His Beatitude Béchara
Boutros Raï, 72, Patriarch of Antioch of the Maronites (Lebanon),
His Beatitude
Baselios Cleemis Thottunkal, 53, Major Archbishop of Trivandrum of the Syro-
Malankara (India),
Archbishop John Olorunfemi Onaiyekan, 68, Archbishop of Abuja
(Nigeria),

Archbishop Ruben Salazar Gómez, 70, Archbishop of Bogota (Colombia),

Archbishop Luis Antonio Tagle, 55, Archbishop of Manila (Philippines).
The
consistory will take place on November 24.