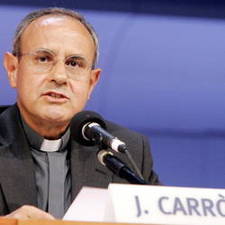 Those who hold the rank of Ordinary members of the Synod Bishops are able to make a public contribution at the Synod. On Saturday, October 13, 2012, the President of the Fraternity of Communion and Liberation, Father Julián Carrón, made his presentation to the assembled Synod members, and the Pope. Pay close attention to exactly what Father Carrón said,
We can no longer "think of the faith as a self-evident presupposition for life in society". In fact, "not only can this presupposition no longer be taken for granted, but it is often openly denied" (Porta Fidei, 2).
While reading the Instrumentum laboris (142), I was shocked by this observation: "a concern on the scarcity of initial proclamation taking place everyday". All the efforts made until today are having trouble generating newness of life that will arouse curiosity on how the baptized live. How can the fracture between faith and life be overcome, a fracture that makes it harder for faith to be found in a reasonable way, and therefore, attractive? Without rediscovering and welcoming the precious gift that is faith, new evangelization risks being diminished to being a question for experts.
To incite this interest, we have an ally in the heart of man from any culture and condition. We know that the heart of man is made for the infinite. Awaiting its achievement remains in him. Because there is "no false infinite that can satisfy him". "What, then, will anyone gain by winning the whole world and forfeiting his life?" (Mt 16:26).
A doctrine, a group of rules, an organization cannot answer this expectation, only an event. As Fr. Giussani said during the 1987 Synod, "What is lacking is not as much the verbal or cultural repetition of the proclamation. Today's man perhaps awaits subconsciously the experience of the encounter with persons for whom the fact of Christ is such a present reality that it has changed their lives". A place where everyone is invited to verify what the first verified on the banks of the river Jordan: "Come and see", because "a faith that cannot be evidentiated and found in present experience, confirmed by it, that is not useful in answering its needs, will not be a faith capable of resisting in a world where everything, absolutely everything, says the opposite".