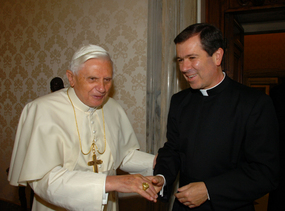 In a letter dated October 9, 2012 and released to the public today, (see below) to the priests and brothers of the Legion of Christ, the Regnum Christi Movement and the faithful who follow the Legion, Father Alvaro Corcuera, 55, has announced he is stepping aside as General Director. Health concerns are cited. All this in favor of handing governance to the Vicar of the congregation, Father Sylvester Heereman, 38, until the next General Chapter meets in late 2013 or early 2014.
No doubt the events in the Congregation and the Movement have been difficult for him. He deserves prayerful and fraternal support. Regardless of the Legion's past, the malfeasance of the founder, Father Alvaro was obedient to the Church and bore the heat of the day. I am one who believes that a more radical surgical knife was needed to cure the disease in the Legion, and that will come in time. Much work has been done, thanks to Father Alvaro, and more will be done by the new administration and the forthcoming Chapter. As Cardinal de Paolis noted, being the major superior at this time was a burden and the term office may be too long for many today.
May Blessed John XXIII intercede with Jesus the Good Shepherd, pray for the Legion and the Church. Our duty is to pray, and work for meaningful change.