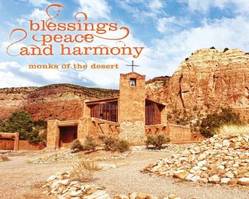 Last week (17 October 2012) six monks from two monasteries, The Abbey of Christ in the Desert (NM) and and Mount Saviour Monastery(NY) met in NYC to have their 3 minutes of fame on the Today Show.
The monks sang "Alleluia Iustus Germinabit" from their new album produced by Sony Masterworks, "
Monks in the Desert: Blessings, Peace and Harmony
." The CD will make a great Christmas gift…
It's exciting to see Benedictine monks, including a friend, Abbot Philip, signing the Church's chant in such a public way! You come to realize that the sacred music tradition is not dead. Several monasteries in the USA continue to sing the chant for Divine Worship.
Congrats to Abbot Philip and the monks…
If you want to see a little about the monastic life as it is at Mount Saviour, see their DVD, "The Everyday: Benedictine Life at Mount Saviour" (available at the Mount Saviour website).