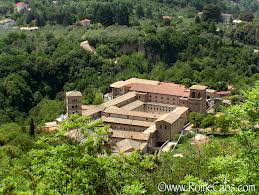 The General Congregation of the Subiaco Congregation of Benedictine monks are meeting this week at one of the monasteries founded by Saint Benedict, Saint Scholastica Monastery, Subiaco, Italy.
There are four monasteries of the Subiaco Congregation in the USA: the Abbey of Christ in the Desert, Saint Mary's Monastery (Petersham, MA), Holy Cross Monastery (Chicago, IL) and
Thien Tam Monastery
(Dallas, TX). These monasteries comprise the English Province of the Subiaco Congregation (
which the video
).
The meeting of the superiors (abbots and priors) is the normal manner of doing business of and for the Congregation which unites the monasteries throughout the world. As a point of comparison, the Subiaco Congregation is the largest grouping of monks and nuns in the world with 1,293 members (a 2010 statistic). Among the tasks for the abbots and priors is to: approve the Constitutions of the Congregation which were newly revised, vote on the request to admit the Cassinese Congregation to the Subiaco Congregation and to elect an Abbot President.
Regarding the vote of the Cassinese Congregation: if the vote is positive the Italian monasteries of this congregation would then belong to
the Subiaco Congregation
thus re-uniting the two.
Our Lady of the Immaculate Conception, pray for the Subiaco Congregation, and for us.