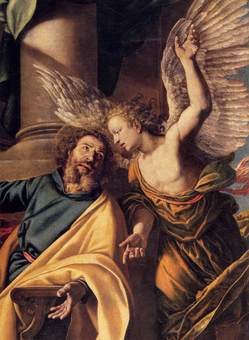 O God, who with untold mercy were pleased to choose as
an Apostle Saint Matthew, the tax collector, grant that, sustained by his
example and intercession, we may merit to hold firm in following you.
Pope Benedict said today,
Matthew,
the author of the first of the four Gospels, was a publican – a tax-collector –
and the story of his call to become an Apostle reminds us that Christ excludes
no one from his friendship. Tax-collectors were considered public sinners, and
we can hear an echo of the scandal caused by the Lord's decision to associate
with such men in his declaration that he came "not to call the just but
sinners"

(Mt 2:17).
This is
the heart of the "good news" which Jesus came to bring: the offer of
God's grace to sinners! The parable of the publican in the Temple makes this
same point: by humbly acknowledging their sins and accepting God's mercy, even
those who seem farthest from holiness can become first in the Kingdom of
Heaven.
So, there's hope for me (us).