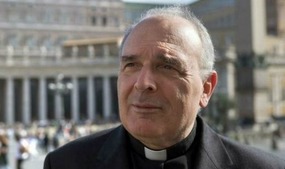 This morning His Holiness, Pope Benedict XVI, nominated Monsignor Massimo Camisasca, 66, as the new bishop of the Italian Diocese of Reggio Emilia – Guastalla. The Reggio Emilia was erected as a diocese in the first century and as 2010 notes about 504,000 Catholics.
Bishop-elect Camisasca born in Milan on 3 November 1946, ordained priest of Bergamo in 1975 succeeds Bishop Adriano Caprioli who has been Ordinary of the diocese for the past 14 years.
Since 1985 Monsignor Massimo Camisasca has resided in Rome where he founded the
Fraternity of Saint Charles Borromeo
and he's served the community as the superior general. In 1996 he began his service as the vice president of the Pontifical Institute of John Paul II for Studies in Marriage and Family Life.
Camisasca, a close collaborator of Monsignor Luigi Giussani since his high school days at the Berchet High School, studied in Milan, in Rome at the Lateran University; he is the author of 50 books. The Bishop-elect is widely known to be a man of great humanity with a tangible spiritual paternity. He knows the faith, he has familiarity with the Word of God, and priest of the Church's sacred Liturgy and spiritual tradition, a man of Charity, service, mission and culture.
Bishop-elect Massimo Camisasca is the second member of the Fraternity of Saint Charles to be elected bishop (the other is Archbishop Paolo Pezzi, Moscow). There are many other bishops who claim to follow the life and works of Communion and Liberation, among them you could count Angelo Scola, Filippo Santoro, Michele Pennisi, Luigi Begri, Gianicarlo Vecerrica and Vincenzo Orofino.
In his heart, Bishop-elect Massimo Camisasca comes to service as a bishop in fraternity and friendship.
May Saint Prospero, Saint Francis of Assisi, Saints Cristanto and Daria and the Mother of God, intercede before God for Don Massimo and his diocese.