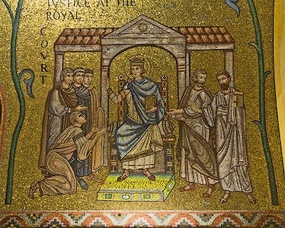 Saints come from all walks of life. We've got every group represented in the group of canonized. Today is the feast of a saint of a rare group –a king. The Church honors King Saint Louis IX.
The Church prays
O God, who brought Saint Louis from the cares of earthly rule to the glory of a heavenly realm, grant, we pray, through his intercession, that, by fulling our duties on earth, we may seek out your eternal Kingdom.
Dom Dunstan Holms is now a permanent member of Saint Louis Abbey; Abbot Thomas has assigned him the work of being the chair of the classics department; he's a well respected Latin teacher at the Priory School. May God richly bless Dom Dunstan as he moves more and more toward the Paschal Mystery.
Likewise, say a prayer for the Archdiocese of Saint Louis on their feast day.