O God, who made Saint Jane Frances de Chantal radiant with outstanding merits in different walks of life, grant us, through her intercession, that walking faithfully in our vocation, we may constantly be examples of shining light.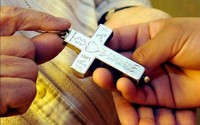 While today is Sunday and Saint Jane's feast is not celebrated by the Church at Mass, the Visitation nuns will observe her feast with great solemnity. I saw one of the St Louis Visitandine nuns yesterday at the ordination of the two monks and we had a good laugh and a few moments talking about important things, like my coveting the cross of a Visitation nun (look at the picture closely). It is, for me, a strikingly beautiful sign of Christ's love and human commitment to that love. I really want one!
I pray for the nuns of the Order of Visitation whom I have known over the years and I keep in prayer the Monasteries in Georgetown, St Louis, and Tyrringham.
Saint Jane Frances de Chantal, keep us "walking faithfully in our vocation," pray for us.