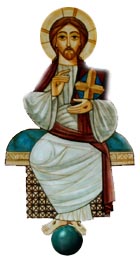 The Coptic and Ethiopic Churches face the elections of new popes in the coming weeks. Pope Shenouda III died in March 2012 after serving as pope of his Church for 40 years. Yesterday, the patriarch of the Ethiopic Church Abune Paulos died at the age of 76. Shenouda had health issues and Paolus apparently died of a heart attack (there's some controversy on the reason for the death).
Catholics have a keen interest in the Coptic Church because of the role she has played in the forming Catholic faith across the many centuries.
The Ethiopian Orthodox Church Church established themselves as separate from the Coptic Church in 1959 and claims 45 million faithful.