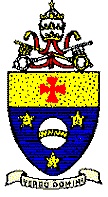 The Office of the Abbot Primate announces…
Almost 300 monastics will gather in Rome, 17-25 September 2012, for the international Congress of Benedictine Abbots and Conventual Priors at the Primatial Abbey of St. Anselm on the Aventine Hill. Preceding the Congress, new monastic superiors will participate, 15-16 September 2012, in an orientation program. 25 representatives from Communio Internationalis Benedictinarum (CIB), an association of Benedictine sisters and nuns, will also attend the Congress. The Abbot Primate has invited ecumenical guests from the Orthodox and Reformed traditions.
The two keynote speakers are Prof. Michael Hochschild presenting his research on the viability of
Benedictine monasteries, and Fr.

Michael Casey OCSO

offering a paper on autonomy in Benedictine life. In addition, a wide range of workshops will address current topics in monastic life; such as, Benedictine identity, stress and burnout, associate membership programs, management of monasteries, individualism in the monastery, relationship with Benedictine women, new forms of Benedictine presence in society, ecumenism, the paschal mystery in the sacred liturgy, new directions for inter-monastic dialogue, new structures for AIM, the changing role of the Athenæum S. Anselmo,the sexual abuse crisis, the role of the abbot, communio in the confederation,and the formation of "traditionalist" candidates.
The assembled abbots and conventual priors will have the opportunity to visit in pilgrimage the monasteries of Subiaco, Montecassino, Norcia, and Camaldoli, which is celebrating its 1000th anniversary this year. Nearly half of the 250 abbots and conventual priors will reside in the Collegio S. Anselmo, with the others, including CIB representatives and ecumenical guests, housed in area religious houses and hotels.
An important item on the agenda is the election of the abbot primate of the Benedictine Confederation. According to the

Lex Propria of the BenedictineConfederation

, the abbot primate is elected for an eight-year term, and renewable thereafter every four years. There is no term limit to the office of abbot primate. The current abbot primate, Dr. Notker Wolf OSB, a monk of St. Ottilien Archabbey in Bavaria, is completing 12 years of service, having beenre-elected in 2008.
Your prayers for the success of the Congress are greatly appreciated.