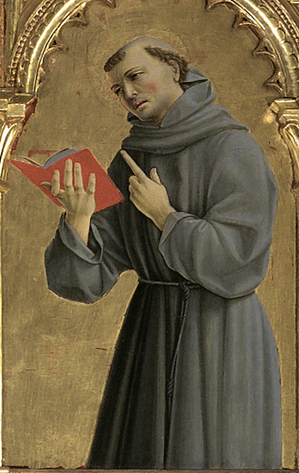 Grant, we pray, almighty God, that, just as we celebrate the heavenly birthday of the bishop Saint Bonaventure, we may benefit from his great learning and constantly imitate the ardor of his charity.
Ask my parents about the number of books I have. They'd say, "Too many." But they also say that I don't easily with them. However, I do weed out some of the books I deem useless to me and donate them to a monastery or a group of Benedictine sisters in outside of Pittsburgh who collect books for new monasteries in the developing world. I do try to act charitably.
A Capuchin friar friend of mine wrote a piece on his blog about his reluctance to lend books. I can relate. He found this paragraph of Saint Bonaventure's that seems to capture the feelings of anyone who has ever been reluctant to lend a book:
[T]hose who are most importunate in asking for them are the slowest to return them; books return torn and dirty; he to whom they are lent, lends them to another without your permission, and this other sometimes to a third, and this third not knowing by now who owns the book is not in a position to give it back; sometimes again he to whom a book is lent leaves the place and is then too far away to bring it back; and if he manages to find someone to bring it back for him, this someone wants to read it before giving it back, or lends it, and ends up by denying that he ever had it; finally if a book is lent to one man others are angry that it is not lent to them too, so that one is forced to do without it oneself while waiting for it to come back dirty, or be lost altogether.
There's still much to learn in the spiritual life when you take seriously the prayer of the Church (noted above), especially regarding the charity one ought to have. I fail at being charitable, a sin I confess often; but I keep trying to learn from the saints like Friar Bonaventure.
Some prior posts on Saint Bonaventure may be found here, here and here.
(Bonaventure, Determinationes quaestionum, II, 21, as quoted in Etienne Gilson, The Philosophy of St. Bonaventure, trans. Dom Illtyd Trethowan, 61-62.)