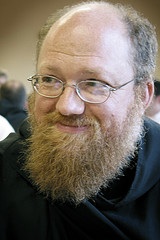 My friend Father Cyril Crawford died unexpectedly a short time ago, on 15 May 2012. He died in his sleep in Leuven (Louvain), Belgium, at the Katholieke Universiteit Leuven, where he was working on a doctorate in Philosophy so that he could teach at his monastery's college.
My heart is saddened, deeply so. Cyril as a good monk, priest with an honest search for God and keen sense of humor and intellect.
Saint Benedict and Saint Cyril of Alexandria, pray for Father Cyril, and for us.