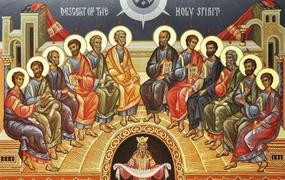 The Roman Church celebrated Pentecost last weekend thus concluding the Easter season. This weekend the same Church observes the feast of the Most Holy Trinity.
Also this weekend, our Orthodox sisters and brothers are celebrating the Coming of the Holy Spirit (see Acts 2:1-4).
Let us beg for the gifts and fruits of the Holy Spirit.
You may read more about the Spirit's feast here.