We are fast approaching the great feast of the Pentecost, the outpouring of the Holy Spirit upon those who follow Christ. This feast, like all others we observe in the liturgical life of the Church, is not about an event of 2000+ years ago but an experience of great proportions evidenced today. Yes, we remember liturgically the first event (anamnesis) but it is a remembrance that spills into today's context. Attentive to our sacred Liturgy, we see that one piece of Scripture interprets another, one liturgical observance of Sunday (or daily) sheds light on another. Pentecost is coming in two weeks and last Sunday the Church gave us a foreshadowing of a future gift. Below is an excerpt of a homily delivered by an American Benedictine monk in Italy giving us "taste" of what's coming. These paragraphs are presented for our lectio.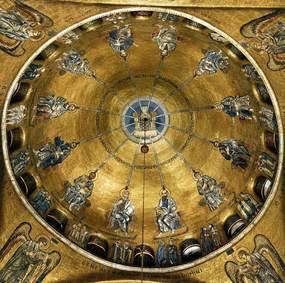 The departure of Jesus in terms of his bodily presence, therefore, is not a reason to be sad; instead, it is a cause of great joy. And this is exactly what the Lord promises when he says: "I tell you the truth; it is to your advantage that I go away, for if I do not go away, the Counselor will not come to you; but if I go, I will send him to you" (Jn 16:7).
Christ sends us the Counselor, that is the Holy Spirit, in union with his Father. In fact, the Holy Spirit is the special promise of the Father (cf. Acts 2:33; Eph 1:13; Lk 24:49), the gift which allows us to know him more intimately, "for the Spirit searches everything, even the depths of God" (1 Cor 2:10). The good fathers of this world show their goodness towards their children giving them the most precious gift, that of personal love. The Lord says to earthly fathers: "If you then, who are evil, know how to give good gifts to your children, how much more will the heavenly Father give the Holy Spirit to those who ask him!" (Lk 11:13). Given that "every good gift and every perfect gift is from above, coming down from the Father of lights" (Jas 1:17), as we heard in today's epistle [May 9, 2012], it is clear that the best gift that the Father can bestow is that of his Holy Spirit, through whom the Father and the Son are able to dwell in us (cf. Jn 14:23).
How eager, therefore, should we be to receive this Spirit! O how we should implore the Father for this perfect gift! We should say, therefore: Come, Holy Spirit! Fill the hearts of thy faithful and kindle in them the fire of your love. Send forth thy Spirit and they shall be created, and you shall renew the face of the earth. Amen.
Father Basil Nixen, OSB
9 May 2012
Monastery of Saint Benedict
Norcia, Italy