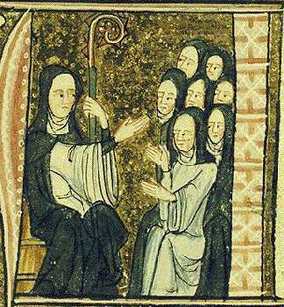 This morning the Holy Father had received in a private audience Angelo Cardinal Amato, SDB, Prefect of the Congregation of the Causes of Saints, who presented the cases for sainthood that his office has been working on.
Among the many important things decided, the Pope has given us the liturgical memorial of and inscribed in the catalog of Saints of the Universal Church, the model of holiness in the person of Saint Hildegard of Bingen, a German Benedictine nun born in Bermershein in 1089 and who died in Rupertsberg on 17 Septemeber 1179.
What is interesting here is that Hildegard never really went through the same process of canonization that's done nowadays so you can say the Church is recognizing her sanctity and place with God without the rigorous investigation that is being done for the Venerable Servant of God Michael J. McGivney. In part, this is because through the centuries the Church has changed several times, the process by which it is judged a person is a blessed or saint. Previously, people used the title "saint" with Hildegard as "popular theology and cult of the saints."
So, with this ecclesial recognition Saint Hildegard of Bingen may be honored officially as a saint of the Church. She may be considered the Church's newest Benedictine saint.
With regard to candidates for sainthood from the United States, the Holy Father is recognizing:
~ the heroic virtue of the Servant of God Frederick Irenaeus Baraga, first bishop of the Diocese of Marquette (Michigan), born in Solvenia on 28 June 1797 and died in Marquette on 19 January 1868;

~ the heroic virtue of the Servant of God Miriam Teresa Demjanovich, a professed sister of the Congregation of Sisters of Charity of Saint Elizabeth, born in Bayonne (New Jersey) on 26 March 1901 and who died in Elizabeth (New Jersey) on 18 May 1927;

~ and the recognition of a 14 March 2012 act of the Congregation of Saints in promulgating a Decree regarding the heroic virtue of the Servant of God Felix Francis Joseph of the Conception Varela Morales, a secular priest born in Havanna, Cuba on 20 November 1788 and who died in Saint Augustine (Florida) on 25 February 1853.