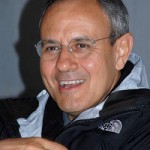 Father Julián Carrón will be receiving an honorary degree from the Catholic University of America on Saturday, May 12, 2012. It is the 123rd commencement for CUA. This is a wonderful sign of esteem both for Fr. Carrón and for lay ecclesial movement Communion and Liberation here in the US. It ought to be noted that a number of US bishops would have had to have voted to grant him such an honor.
For those who would like and are within close enough range, there will be an open assembly with Father Carrón on the School of Community text, At the Origin of the Christian Claim, and on the "Page One" of the recent issue Traces, "Self-Awareness: the Reawakening Point." It will take place that same day, Saturday, May 12th, 2012 at 3:00pm in a place to be announced in Washington, DC.
His Eminence, Timothy Michael Cardinal Dolan, PhD will receive the President's Medal and address the graduates.
Also among those receiving honorary degrees from CUA are Giuseppe Mazzotta, Yale University's Sterling Professor of Humanities for Italian literature, the philanthropist Carmen Ana Casal de Unanue and her husband and former head of Goya Foods Joseph A. Unanue.