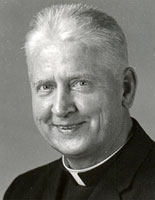 Moving around the circles of the Catholic press is the noteworthy acceptance as valid of the cause of beatification and canonization of Father Walter J. Ciszek, SJ, (1904-84) by the Holy See's Congregation for the Causes of Saints.
So, this opens the door for Father Walter to be called "The Servant of God Father Walter J. Ciszek." This is after thousands of pages already sent to Rome. When the biography, and gathering of other information is complete and deposited with the officials of the Saints' Congregation, Cisezk's case will be studied by nine theologians who will determine if he indeed lived a life of heroic virtue. If so after a commission of bishops and cardinals meets, a recommendation will be made to the Holy Father. A positive vote on all matters will result in the bestowing of the title "Venerable Servant of God…" Then, the real work of identifying a certifiable miracle takes place for the rank of beatification and then another miracle for canonization.
The American Jesuit priest, you may recall spent 23 years in a Soviet labor camp was known for his holiness. He is one of two Jesuits being studied for possible canonization who were born in the USA.
The process of study has had its severe hiccups one of which burped the cause from the Eparchy of Passaic to the Diocese of Allentown in 1996. The Jesuits who were handling the cause were dragging their feet and the apathy set in.
Father Walter Ciszek was the author of two books you may have heard of, He Leadth Me and With God in Russia.
Father Ciszek died on December 8, 1984, at the Fordham Jesuit Community's infirmary.