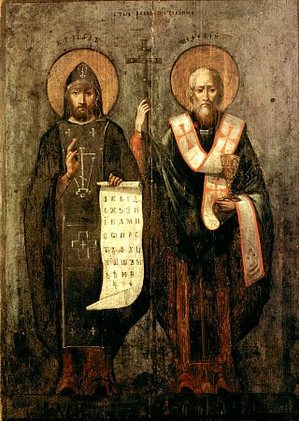 A lot of westerners are not too aware of Saints Cyril and Methodius. However, there's a Polish parish in the Hartford and Bridgeport dioceses and a seminary in Michigan that bear the names of these rather famous saints. So, they are not too obscure but they're not that well-known as they ought to be. In 1985, Blessed John Paul II paid tribute to these two saints in an Encyclical, Slavorum Apostoli, to show the vividness of their witness.
In Russian Orthodox circles, the celebration of Cyril and Methodius is connected with a cultural festival on Salvonic literature. The holy brothers are known for the formation of the Glagolitic alphabet –now called the Cyrillic alphabet– that was instrumental in the evangelization and education of the Slavs.
Here we have saints not only of great zeal for the Kingdom of God but of culture. The true and orthodox faith the lived and taught is the one we desire, too.
The Church prays
O God, who enlightened the Slavic peoples through the brothers Saints Cyril and Methodius, grant that our hearts may grasp the words of your teaching, and perfect us as a people of one accord in true faith and right confession.