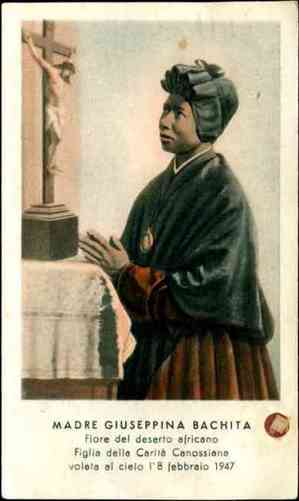 The Lord has loved me so much: we must love everyone…we must be compassionate!
The Church liturgical memorial today commemorate Saint Josephine Bakhita, a woman from the Sudan who was enslaved as a young girl, purchased by an Italian family, educated by the Canossian Sisters in Italy where she was converted and became a member of that religious community.
At Mass for Saint Josephine, we hear the parable of the wise and foolish bridesmaids (Matthew 25); the Communion antiphon is also from that Gospel. Pope Benedict has spoken of Saint Josephine several times in past years. Let us run out to meet the Lord our Saint today did.
The antiphon at Communion:
The five prudent bridesmaides were prepared with much oil in their flasks, along with their torches. In the gloom of the midnight, a shout was heard by them: "Behold! the Bridegroom comes! Go out to meet Him, the Christ, our Lord!"