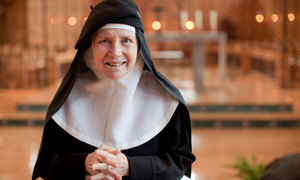 Benedictine nuns typically don't go to the Oscars. For that matter, high profile actresses don't consecrate themselves as Benedictine nuns. Dolores Hart did both.
Dressed in the traditional Benedictine habit of the
Abbey of Regina Laudis
of Bethlehem, Connecticut, Mother Dolores Hart was being considered for a short film Oscar for "God Is The Bigger Elvis."
The film debuts on April 5 on HBO.
The Editorial
of the
Catholic New York
(Feb 23, 2012) gives perspective on Mother Dolores' place in the entertainment world today…
I have written of Regina Laudis Abbey and Mother Dolores several times here on the Communio blog. You may want to search the blog for other posts.
Going to a Benedictine nun going to Hollywood is exactly what should happen. She is not a Visitation or Dominican nun where papal enclosure is a requirement, she's a Benedictine where limited access to the world is possible. In her world, she (and the other nuns of Regina Laudis Abbey) can be professionally engaged –in limited ways with the outside world but people find their ways to the Abbey– so that the culture remains engaged with God and the sacrament of the Chuch. Since Saint Benedict collected the chards of western culture in the 6th century to put it back together, his daughter Mother Dolores Hart is doing the same today. Her walking the red carpet for a possible Oscar, questionable in some minds, is a gesture of evangelization beyond compare.
The Dolores Hart 20/20 Interview
is here
.