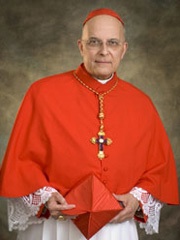 Today is Cardinal Francis Eugene George's 75th birthday. Congrats and continued blessings!!!
His Eminence is this nation's highest profiled cardinal and bishop who is a superb public thinker as well as a pastor of souls. Since 1997 he's been the
archbishop of Chicago
and since 1998 he's been a member of the
College of Cardinals
. Both positions were given to him by Blessed Pope John Paul II.
The 1983 Code of Canon Law says of a bishop who reaches his 75th birthday:
A diocesan bishop who has completed the seventy-fifth year of age is requested to present from office to the Supreme Pontiff, who will make provision after he has examined all the circumstances (401).
Pray for Cardinal George and for the Archdiocese of Chicago.