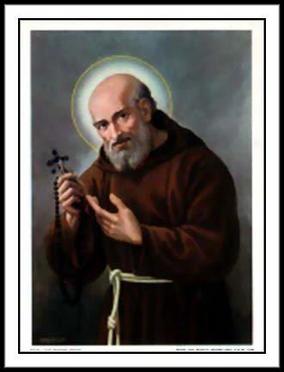 More of the simple lay friars were made saints than the Capuchin priest friars. I wonder why? But a snippet from a biography on Saint Seraphin may be helpful to get a sense of the man:

In 1556, Felix repeated his request to the provincial minister who admitted him to the novitiate at Jesi, where Felix received the name, Seraphin. Upon his reception into the Order, Seraphin remarked, "I have nothing‹just a crucifix and a rosary‹but with these I hope to benefit the friars and become a saint."
Although he was not totally illiterate, Seraphin could speak about God more eloquently than any theologian. Even the bishop of Ascoli, the eminent theologian, Cardinal Bernerio, sought Seraphin's advice in especially difficult cases.
With himself, Seraphin was austere. Only once in his life did he accept a new habit, and then, only out of obedience. For 40 continuous years, all he ate was soup or salad. In keeping with the spirituality prevalent at the time, Seraphin had a personal devotion of serving as many eucharistic liturgies as possible.