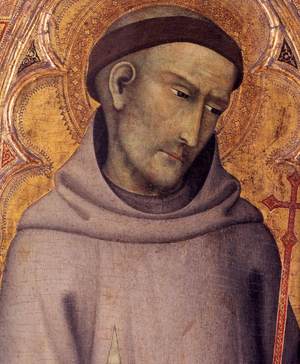 Francis, the man of God, left his home behind, abandoned his inheritance and became poor and penniless, but the Lord raised him up.

O God, by whose gift Saint Francis was conformed to Christ in poverty and humility, grant that, by walking in Francis' footsteps, we may follow your Son, and, through joyful charity, come to be united with you.
The mystery of the Cross is likely never made more evident in Christianity than through the life of Saint Francis of Assisi. The above prayer, in fact, the new collect for the Roman Missal brings this to bear on us. Francis' life of charity and apostolic zeal effected God's love for all.
The Pope offers a glimpse into the Poor Man of Assisi:
The Poverello
of Assisi understood that every charism as a gift of the Holy Spirit existed to serve the Body of Christ, which is the Church; therefore he always acted in full communion with the ecclesial authorities. In the life of the Saints there is no contradiction between prophetic charism and the charism of governance, and if tension arises, they know to patiently await the times determined by the Holy Spirit.
Actually, several 19th-century and also 20th-century historians have sought to construct a so-called historical Francis, behind the traditional depiction of the Saint, just as they sought to create a so-called historical Jesus behind the Jesus of the Gospels. This historical Francis would not have been a man of the Church, but rather a man connected directly and solely to Christ, a man that wanted to bring about a renewal of the People of God, without canonical forms or hierarchy. The truth is that St Francis really did have an extremely intimate relationship with Jesus and with the word of God, that he wanted to pursue sine glossa
: just as it is, in all its radicality and truth. It is also true that initially he did not intend to create an Order with the necessary canonical forms. Rather he simply wanted, through the word of God and the presence of the Lord, to renew the People of God, to call them back to listening to the word and to literal obedience to Christ. Furthermore, he knew that Christ was never "mine" but is always "ours", that "I" cannot possess Christ that "I" cannot rebuild in opposition to the Church, her will and her teaching. Instead it is only in communion with the Church built on the Apostolic succession that obedience too, to the word of God can be renewed.