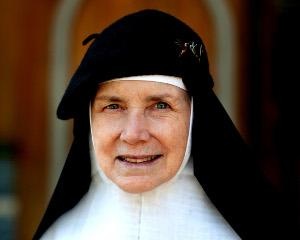 She's known because of her background: the actress who worked with Elvis Presley. That's what many people remember of
Dolores Hart
. Some recall that in 1963 Hart left Hollywood to follow her heart: to give her heart to Jesus Christ as a Benedictine nun at the
Abbey of Regina Laudis
in Bethlehem, Connecticut. Today, Hart is known as Mother Dolores. At 73 (her birthday on October 20th), there are no signs of slowing down, despite flares of neuropathy.
As buildings and property age –more than 60 years old by now– the wood, bricks and mortar give way and updating needs to happen. Working for the Church, I can attest of the serious need and reasonableness to invest buildings and property.
Regina Laudis needs our help!
Read
about it here
.

The famous actress turned Benedictine nun is helping her abbey raise much needed financial support for some required repairs. Mother Abbess David Serna and the nuns of the Abbey have initiated "The New Horizons Renovation Project" to provide a better living environment for the their vibrant and growing community. The Project is ambitious; the need significant. The nuns are looking to raise $4 million. A brief news piece on the effort…
The Abbey of Regina Laudis
273 Flanders Road
Bethlehem, CT 06751
203-266-5132