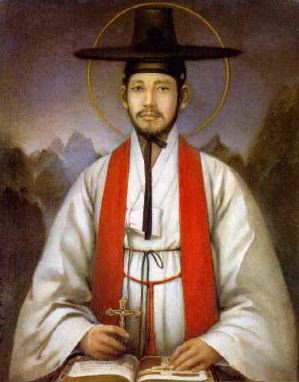 Today is the feast of the 19th century Saints Andrew Kim and Paul Hasang and their 103 companions. Kim is the first Korean born Catholic priest! He also followed his father as a martyr for the faith. Andrew was beheaded after being tortured in 1846. These saints were raised to the altars by Pope John Paul II in 1984.
Why ought we be concerned about this today? One reason is that these witnesses to the Gospel of Jesus Christ were mostly lay people. The faith in Korea is a Catholic faith that has its roots not primarily in the work of clergy but by the work of the laity. This is not a feast that proclaims the greatness of the laity
over
the clergy
but
it is a feast that speaks to the faithful and fruitful work of the Holy Spirit in priesthood of the all the baptized to make disciples of all nations. Surely, the ministerial priesthood was utilized in discrete ways because of the anti-Catholic sentiment of this geographic region. How else would the sacraments of Baptism and Eucharist be given? What the Church in her wisdom following the guidance of the Spirit has given us are models of holiness in serving the Lord in fullest sense possible: the correspondence of the ordained and lay priesthood.
Let us pray for the Church in Korea!