An interesting and unique anniversary is being observed by a member of the College of Cardainls: Ján Chryzostom Korec, SJ, the emeritus bishop of Nitra (Slovak Republic), 87, Bishop Pavel Hnilica ordained the cardinal secretly in a hospital room.
The cardinal is an exceedingly interesting man. When I met him in 1997 when he was making a US tour of Slovak communities, his interaction among his hosts was wonderful. He received an honorary Doctorate from Sacred Heart University on that visit to Connecticut.
Cardinal Korec's statistics are fascinating: nearly 61 years a priest, 60 years a bishop and 20 years a cardinal.
Here's the Pope's congratulatory message:
Venerabili Fratri Nostro
IOANNI CHRYSOSTOMO S.R.E. Card. KOREC, S.I.
Episcopo emerito Nitriensi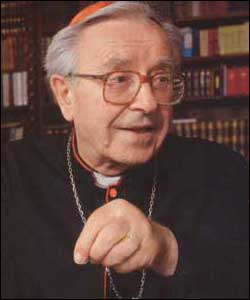 Laeti laetum nuntium accepimus quod tu, Venerabilis Frater Noster, sexagesimam propediem anniversariam celebrabis memoriam illius diei semper tibi recolendi, quo Episcopus consecratus es et inter Apostolorum Successores relatus, huius nominationis occulte nactus honorem.
Quemadmodum tam felicis nec non praeclari eventus ratio poscit, Nos, commemorantes ministerium sacrum quod diligentissime tot annos peregisti, te actuosum, fidelem ac prudentem Pastorem enixe laudamus praesentiamque spiritualem Nostram hac in festivitate tibi pollicemur.
Dum ergo flagrantia vota, quaecumque sunt salutaria, optabilia, fausta adprecantia, imo e pectore promimus, a sanctissimo ac sempiterno Deo tibi supernorum munerum copiam imploramus, quorum auspicium simul atque propensae voluntatis Nostrae pignus esto Apostolica Benedictio, quam tibi amantissime impertimus.
Ex Arce Gandulfi, die XV mensis Augusti, in Sollemnitate Assumptionis Beatae Mariae Virginis, Anno MMXI, Pontificatus Nostri septimo.
BENEDICTUS PP XVI