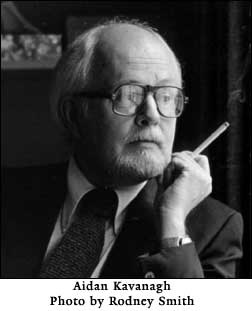 Students of the sacred Liturgy are familiar with the scholarship and some would say "pioneering work" in the realm of adult baptism and the new (in 1972) Rite of Christian Initiation of Adults (RCIA) by Father Aidan Kavanagh, a Benedictine monk and priest of the Archabbey of Saint Meinrad.
Most of Father Aidan's professional teaching life was spent away from Saint Meinrad having only taught a few years in his monastery's seminary. In discernment with his abbot, Father Aidan devoted his energies to teaching at the University of Notre Dame and then for many years Yale Divinity School (New Haven, CT).
Why mention this? Well, today is the fifth anniversary of Father Aidan's death. The necrology is always an occasion to express our gratitude to God for graces bestowed on his through his children. I am grateful for the books written by Father Aidan (he is required reading in the study of the Liturgy) and the countless peoples he taught and guided in the Christian life.
May God be merciful to Father Aidan and may his memory be eternal.