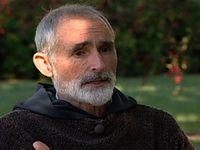 Brother Paul Quenon, OCSO, has been a monk for 52 years. That is, he's been trying to live in God and by learning to deepen one's capacity to love in community; that's how he describes life as a Trappist monk. A one-time spiritual son of Father Louis (Thomas Merton), Brother Paul lives a contemplative life –that is, on the margins of society but at the center of the Church. His witness is a life of proclaiming the beauty of Christ from an abbey of the Strict Observance of Cistercians. Religion and Ethics Newsweekly's Judy Valente interviewed Brother Paul recently at his home, the Abbey of Gethsemani.
Brother Paul continues his conversation with some
extra questions and answers noted here
. Here he talks about Father M. Louis — Thomas Merton: his personality and life, his call, the spirituality he lived and taught, and the mystery of what he sought.