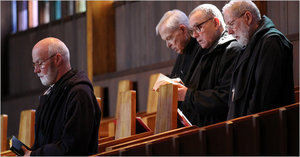 Benedictine monasticism has a beautiful way of adapting, in a sensitive and intelligent way, to the times. Being contemporaneous doesn't mean trendy. It means, in my mind, taking seriously the fact of the Incarnation: that in all things God may be glorified. Pope Benedict has been advocating the prudent use of social media, a point for this blog!
The monks of the Abbey of Saint Gregory the Great (Portsmouth Abbey) is an incredibly beautiful monastery of monks set on the Narragansett Bay just a few miles from Newport and Providence, Rhode Island and Fall River, MA. The first work of the life of a monk is prayer; the manner of work is administering a boarding school and some limited pastoral work. And Brother Joseph has a working garden for the abbey and school.
A premise of the article is that the monastic community is old and on the verge of making significant decisions about their future if recruits don't show up soon. And the author is correct. But I see great life and even great potential of the life lived at Portsmouth. As an oblate, I think a few things need to be adjusted and God's grace will attract new, younger men to be consecrate their lives to this community. So, the fact that the monks are older, slowing down and they're not able to do what they did when they were 25 years younger, but the centrality of prayer, sacrifice and monastic witness remain vibrant even with few new and exciting initiatives happening. And of course, there are few things that need to be done at the abbey that would be helpful to rejuvenate the gift of a vocation and ministry the Holy Spirit has given to the monks.