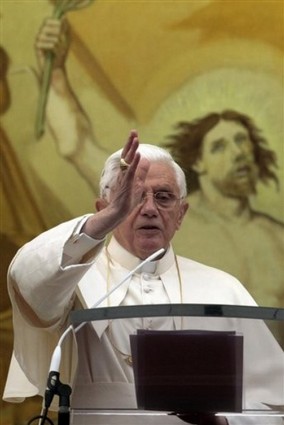 The day following Easter Sunday, indeed, all of the Easter Octave, is just as important as the Easter mystery of the solemn celebration of the Resurrection: the concrete risen Lord fulfills his promise of new Life. Pope Benedict said today at Castle Gandolfo today, "With greater joy than ever, the Church celebrates
these eight days in a special way, as she recalls the Lord Jesus's resurrection
from the dead. Let us pray fervently that the joy and peace of Our Lady, Mary
of Magdala and the Apostles will be our own as we welcome the risen Lord into
our hearts and lives. I invoke God's abundant blessings upon you all!"
A slight shift in our daily prayer moves from praying the Angelus three times a day (at least) to the Regina Coeli, another radical call to live the Gospel is known in this prayer. With the Mother of the Savior we call the promise come true.
Queen of Heaven, rejoice, alleluia.
For He whom you did merit to bear, Alleluia.
Has risen, as he said, alleluia.
Pray for us to God, alleluia.
Rejoice and be glad, O Virgin Mary, alleluia.
For the Lord has truly risen, Alleluia.
O God, who gave joy to the world through the resurrection of Thy Son, our Lord Jesus Christ, grant we beseech Thee, that through the intercession of the Virgin Mary, His Mother, we may obtain the joys of everlasting life. Through the same Christ our Lord. Amen.