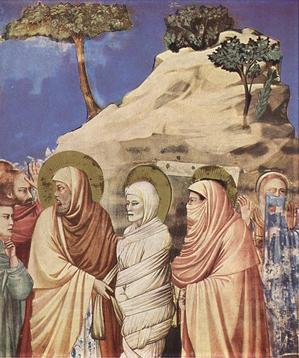 The raising of Lazarus from the dead not only restores Lazarus to life, a life with his family and friends, but he begins a new life on earth because of his relationship with Jesus. The gaze of his friend Jesuson Lazarus is one of profound emotion and penetrating teaching. There's no question that something unique happened to Lazarus because on the Lord's journey to Jerusalem to face his own passover from life to Life. This is a final act of Jesus before he walks the via Dolorosa. But what does Lazarus's new new life and Jesus' own resurrection say to us today?
Lazarus' human life is not permanent even after divine intervention for he will definitively die at the proper time. But the gift of new life –in a normal sense– gives us the awareness that life is anything but ordinary for those who know the Lord. It identifies our own aspiration for eternal life with Him. We are changed by meeting the Lord "which breaks through and overcomes every barrier! Christ breaks down the wall of death, and in Him there resides the fullness of God, which is life, eternal life. Therefore death had no power over Him; the resurrection of Lazarus is a sign of his full dominion over mortal death, which is like sleep before God."
The Church uses this gospel pericope on this 5th Sunday of Lent when she brings women and men to the sacraments of Initiation. The Church prays: "Free these elect [those to be Initiated] from the death-dealing power of the spirit of evil, so that they may bear witness to their new life in the risen Christ" and "…by raising Lazarus from the dead you showed that you came that we might have life and have it more abundantly. Free from the grasp of death those who await your life-giving sacraments and deliver them from the spirit of corruption."
The raising of Lazarus foretells the resurrection of the dead of Jesus after the cross. But the Lord's new life on the Third Day is no mere resuscitation of a dead body. Jesus' resurrection is not equivalent of the raising of Jarius's and Nain's children or of Lazarus. As Pope Benedict states in his recent book on Jesus of Nazareth (vol. 2) "Jesus' Resurrection was about breaking out into an entirely new form of life, into a life that is no longer subject to the law of dying and becoming, but lies beyond it –a life that opens up a new dimension of human existence. Therefore the Resurrection of Jesus is not an isolated event that we could set aside as something limited to the past, but it constitutes an 'evolutionary leap' (to draw an analogy, albeit one that is easily misunderstood). In Jesus' Resurrection a new possibility of human existence is attained that affects everyone and that opens up a future, a new kind of future, for mankind" (244).
We are confronted the choice to be tied up by sin or to be untied by by grace. The bodily death overcome by Jesus' action in Lazarus is not the only death the Lord wants to change in us. He's battling with evil, with spiritual death, sin, which drags us away from our happiness with the Lord. Do we believe the Resurrection to be true? How are you and I going to be confronted by the Resurrection of Jesus on Easter Sunday? In what ways will we live life differently if truly believe that our humanity is changed by Christ? Will our doubts and confusion over the resurrection be changed by faith?