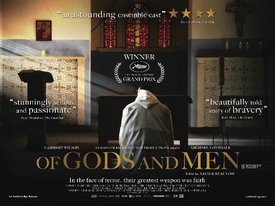 Xavier Beauvois' new film "Of Gods and Men" (Des Hommes et des Dieux) is an intense and moving film of 7 Trappist monks in Algeria who had a coexistence with Muslim neighbors until extremists threatened and killed the monks. The Atlas Martyrs gave their lives in the night of 27-28 March 1996.
John Kiser wrote of the monks in his 2002 The Monks of Tibhirine which I recommend to give you a sense of what's going on here.
"Of Gods and Men" is being shown on the East coast, now in NYC and next week in New Haven. Here's the trailor.
Know the monks: Atlas Martyrs Biographies.pdf
Love is eternal hope…