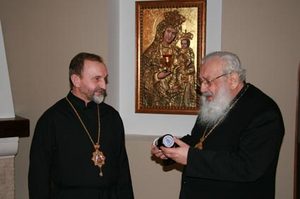 In the past weeks we've seen the Pontiff accepting the resignation of His Beatitude Cardinal Lubomyr Husar, 78, as the Major Archbishop of the Ukrainian Catholic Church. Bishop Ihor Voznyak is the temporary administrator of the Church until a new leader is elected.
The Ukrainian Church is the largest of the Eastern Catholic Churches with its own tradition, law, discipline, and customs; in Church law we'd call the Ukrainian Church an Ecclesia sui juris. As a note, the Ukrainian Greek-Catholic Church is alternately called the Union Church, Ukrainian Catholic Church, Ukrainian Catholic Church of the Byzantine Rite or the Kyivan Catholic Church. Empress Maria Theresa introduced the designation of Greek-Catholic in the title of the Church in 1774. In 1999, the Synod of Bishops introduced the name "Kyivan Catholic Church."
On February 10, Husar symbolized the acceptance of his resignation
by handing over the seal
of the curia to the Administrator.
March 21st is the date that's been chosen for the Synod of Bishops to start the process for election of the new Major Archbishop at the Patriarchal Sobor of the Resurrection in Kyiv. A way of explaining the election of a new father of the Church, Bishop Ihor said, "The election of a new head of the Church is a Divine act in order to elect a person in accord with God's will, 'Not as a man sees does God see, because man see the appearance but the Lord looks into the heart' (1 Sam. 16:7), all of us, clergy and laity, are called to sincere prayer."