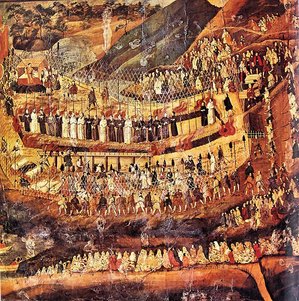 The Church observes the liturgical memorial of Saint Paul Miki and his companions, martyrs for believing in Jesus. The only thing a person of true faith in Christ can say is what the Apostle Paul said in his letter to the Galatians: "I live, no longer I, but Christ lives in me."
A beautiful for the feast
O Christ, the source of endless life,
We bring you thanks and praise today
That martyrs bold your name confessed
And, through their pain, held to your Way.
The gospel preached within Japan
Converted both adult and child,
And flourished there by your rich grace
Despite oppression fierce and wild.
When hatred for this infant church
Broke out in persecution's might,
Your martyrs knew you as their Lord
Who shined in darkness as their light.
O Father, Son, and Spirit blest,
To you all glory now is due.
As were the Martyrs of Japan,
May we to Christ be ever true!
J. Michael Thompson
Copyright © 2010, World Library Publications
LM; TALLIS' CANON, BRESLAU"