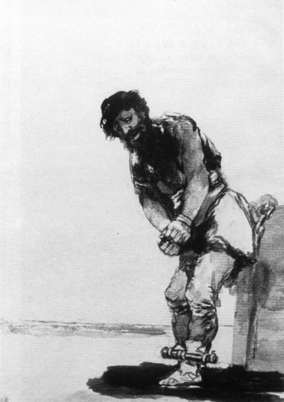 Programs for prisoner reentry into society is crucial in keeping people clean, working, and being a good citizens. "Do-good-ing" is not a Catholic principle. We have plenty of good people doing good all the time. In fact, my heart is really moved by those who don't have a faith tradition to call their own and are motivated to act charitably toward those in need. Living a life of virtue and prayer are Catholic ways of proceeding. Showing mercy is what we are called to live in concrete ways. Helping the excon get on his or her feet again and walking with them is Jesus-inspired act.
Faith-based community projects, church-based communities of faith, Catholic groups like the Order of Malta and Catholic dioceses are among those who are doing good work to live the gospel of Jesus Christ. Faith-based communities have compassion as part of their mission and many are facing compassion fatigue. Money and red-tape are real obstacles to living the Spiritual and Corporal Works of Mercy.
"… I was in prison and visited me" (Matthew 25:36)
On September 6, 2007, Pope Benedict met with the participants of the 12th World Congress of the International Commission of Catholic Prison Pastoral Care. The theme that year was evocative: "Discovering the Face of Christ in Every Prisoner" (obviously based on the above quote from Matthew's gospel passage).
One of the paragraphs of the Pope bear repeating here:
Prisoners easily can be overwhelmed by feelings of isolation, shame and rejection that threaten to shatter their hopes and aspirations for the future. Within this context, chaplains and their collaborators are called to be heralds of God's infinite compassion and forgiveness. In cooperation with civil authorities, they are entrusted with the weighty task of helping the incarcerated rediscover a sense of purpose so that, with God's grace, they can reform their lives, be reconciled with their families and friends, and, insofar as possible, assume the responsibilities and duties which will enable them to conduct upright and honest lives within society.
Key to all of this work, whether it be the prisoner or the chaplain, is living in the heart of the Church by the celebration of the sacraments of Eucharist and Confession. No one is immune to sin. And the line between those in or out of prison or psych unit is sometimes very thin. As it is said, "there I go but for the grace of Christ."
Lucky Severson of Religion and Ethics Newsweekly showed some light on the problem at hand as well as the good will of men and women who are in need of solid formation and education so as to live the life God has proposed to live. Lucky Severson's video article, "
Prisoner Reentry
," is an excellent introduction.
Several noteworthy projects:
The Prodigal Project (Malta Prison Volunteers of Connecticut) founded by John Santa of the Order of Malta
As always, we ask the saints to ask God for the grace needed to live authentically. Saint Joseph Cafasso, pray for us.