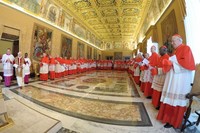 The Pope called an ordinary consistory of cardinals to today to discuss and then announce that 3 new saints are to recognized. The new saints: Don Luigi Guanella, Don Guido Maria Conforti and Sister Bonifacia Rodriquez de Castro.
Blessed Luigi Guanella founded Congregation of the Servants of Charity and the Institute of the Daughters of Saint Mary of Providence
Blessed Guido Maria Conforti founded the Xavierian Missionaries
Blessed Bonifacia Rodriquez de Castro founded the Congregation of the Servants of Saint Joseph
The Sacrifice of the Mass and the Rite of Canonization will take place on October 23.