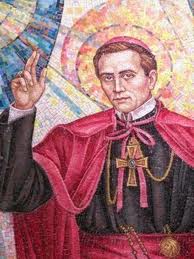 2011 marks the 200th birthday of Saint John Neumann. And the US Redemptorists are making the coming year a notable one to recognize the anniversary. The saint lived March 28, 1811 to January 5, 1860. He was 49 years old at the time of his death and 8 years as the 4th bishop of Philadelphia.
There's a webpage with lots of good resources
on Saint John Neumann found here
.
The Catholic Church in the USA observes the liturgical memorial of Saint John Neumann on January 5.