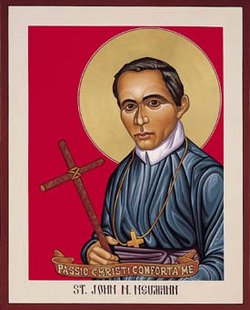 Praise our loving, gracious God
Who has called us each by name
And has chosen shepherds true,
Unimpressed by gain or fame;
These have nurtured all God's fold
And the gospel true have told.
Praise for John, God's bishop sure,
Teaching, preaching in our land;
Founding churches, building schools,
Trusting in God's gracious hand;
Learning tongues that all might hear
God's redeeming love so dear.
Glory to the Father give,
And to Christ the Lord, God's Son,
And to Spirit, Paraclete:
Ever blessèd Three-in-One!
With John Neumann, crowned with light,
Let our praise reach heaven's height.
J. Michael Thompson
Copyright © 2009
World Library Publications
77 77 77