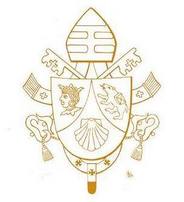 Pope Benedict XVI is building his new team of consultors for the papal agency, the Pontifical Council for the Promotion of the New Evangelization, charged to proclaim the Gospel always and everywhere in a secularized world. This new team really becomes the minds that will build the architecture for the work of the Council. This new Vatican office is slated to be one the most important Vatican offices dealing with building the Kingdom of Heaven. The head of the new council is Archbishop Rino Fisichella.
Today, list has, among others, Archbishop Timothy M. Dolan, Archbishop of New York. He joins the likes of:
The Eminent Lord Cardinals: Christoph Schönborn, OP, Archbishop of Vienna (Austria); Angelo Scola, Patriarch of Venice (Italia); George Pell, Archbishop of Sydney (Australia); Josip Bozanić, Archbishop of Zagreb (Croatia); Marc Ouellet, PSS, Prefect of the Congregation for Bishops; Francisco Robles Ortega, Archbishop of Monterrey (Mexico); Odilo Pedro Scherer, Archbishop of São Paulo (Brasil); William Joseph Levada, Prefect of the Congregation for the Doctrine of the Faith; Stanisław Ryłko, President of the Pontifical Council for the Laity; and their Excellencies: Claudio Maria Celli, titular Archbishop of Civitanova, President of the Pontifical Council for Social Communication; Nikola Eterović, titular Archbishop of Cibale, Secretary General of the Synod of Bishops; Pierre-Marie Carré, Coadjutor Archbishop of Montpellier (France); Timothy Michael Dolan, Archbishop of New York (USA); Robert Zollitsch, Archbishop of Freiburg im Breisgau (Germany); Bruno Forte, Archbishop of Chieti-Vasto (Italy); Bernard Longley, Archbishop of Birmingham (Great Britain); André-Joseph Léonard, Archbishop of Mechelen-Brussel, Malines-Bruxelles (Belgium); Adolfo González Montes, Bishop of Almería (Spain); Vincenzo Paglia, Bishop of Terni-Narni-Amelia (Italy).
All of the members of the consultors have some experience of and leadership in the ongoing work of evangelization in their respective milieu. Noteworthy, several of the cardinals and bishops have connections with Communion and Liberation and Sant'Egidio, Schonstatt movements, the Emmanuel Community and the Christian Life Community.
This Council is not only orienting its work to Europe but to the entire world, giving God a voice.