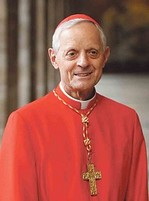 A recent interview with Donald Cardinal Wuerl, Archbishop of Washington, concerning various issues relating to Anglicans seeking to enter into full communion with the Catholic Church was published the other day. Wuerl fills in some gaps in the process and hope that has been generated by Pope Benedict's motu proprio Anglicanorum Coetibus. Recall that the Pope named Wuerl and 2 other bishops to head a task force that would evaluate and offer guidance to interested Anglicans. Those Anglicans seeking communion with the Roman Church, and live in the USA, ought to write to Cardinal Wuerl. The cardinal is aided by Father Hurd, himself a former Anglican minister now an ordained Catholic priest.
On another front, an
Australian newspaper believes
that about 1000 members of the Church of Australia will swim the Tiber. The article really offers no new information, but it is interesting to note how focussed the liberal media is on issue of women's ordination as being the central issue for Anglicans entering the Catholic Church.