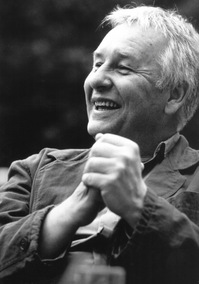 The NY Times reports this afternoon that Henryk Mikolaj Górecki died today after a period of illness. Gorecki was 76.
Henryk Górecki was one of my favorite modern sacred music composers. His music enriched me and countless others. He had the strong sensibility for the past and for the present. Listening to his music you the distinct sense that he worked within the dialogue with God, one that is at once profound, provoking, transcendent and yet simple and accessible. When I listen to Henryk Górecki's music I know with certitude that faith, hope and charity exist. Especially present in his compositions is the virtue and feeling of hope.
Let's pray for the soul of Henryk Mikolaj Górecki and for God's mercy upon him. In gratitude we commend him to the Lord through the Our Lady of Czestochowa and Saint Stanislaus, B.M.
Eternal memory!