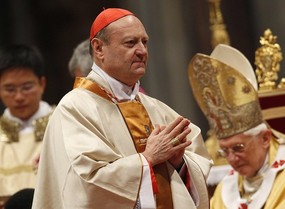 A week ago today, Archbishop Gianfranco Ravasi, 68, was created a cardinal by Pope Benedict XVI. Ravasi, since 2007, is the well-equipped, critically acclaimed, lover of art and music, and a man who has a great sense of humor President of the Pontifical Council for Culture, the "Minister of Culture" (some might say he's a "culture vulture") and he heads the Pontifical Commission for the Cultural Heritage of the Church, and the Pontifical Commission for Sacred Archeology. He's the former head of the Ambrosian Library in Milan. He turned the Library into a cultural and intellectual destination.
Within hours of the consistory rumors surfaced that His Eminence is thought to be a likely replacement of the current Cardinal-Archbishop of Milan, Dionigi Tettamanzi, in early 2011. My guess is that Ravasi will return to Milan and then he'll be elected the Bishop of Rome. (This idea was posited by John Allen, too.) But since he's now 68, how viable a candidate he actually is would be guess, especially if Benedict lives longer. But, I am not willing to let Pope Benedict go just yet, hopefully he'll be around for 5 more years.
Gianfranco Ravasi is the eldest of three children, born in Merate (Lecco). Called to the priesthood, Ravasi prepared for ordination in Milan and did graduate studies at the Jesuit-run Pontifical Gregorian University and the Pontifical Biblical Institute. When finished with his studies he taught Old Testament exegesis. Ravasi also worked closely with Cardinal Carlo Maria Martini, though he did not agree with the cardinal on every matter of faith and morals. Ecclesial rumors say that he was going to be ordained bishop of Assisi but that his dossier was moved to another file over what was perceived –but not actually– as heterodox statement that Christ was not raised from the dead but that he arose. Needless to say, he had detractors in the Roman Curia. But they were not enough to stop Pope Benedict XVI from inviting Gianfranco to write the Good Friday meditations that are used by the Pope at the Roman Colosseum.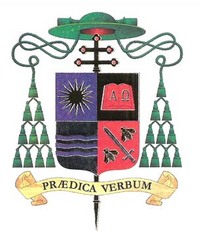 His Eminence was ordained priest by Giovanni Umberto Cardinal Colombo in 1966 and a bishop was Pope Benedict with Cardinals Bertone and Jaworski assisting in 2007.
Cardinal Ravasi's coat of arms (left) will be amended to reflect that he's now a cardinal by replacing the green hat and tassels with a red hat and 15 tassels on each side of the shield.