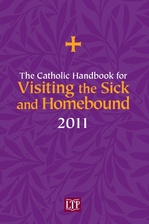 In 2009 I wrote a review of the book, The Catholic Handbook for Visiting the Sick and Homebound. The 2011 edition is now available for use beginning on November 28th, the First Sunday of Advent 2010. Liturgy Training Publications is the publisher. This resource is a good deal for $6.00, discounts for bulk orders.
The is published according to Canon 827 of the
Code of Canon Law
and the approval Committee of Divine Worship of the USCCB.
My opinion remains the same: the book is an essential tool for those who are Ministers of Care of the Sick. The introduction written by Sr Genevieve Glen can't be neglected if one wants to be an effective, sensitive and holy minister.