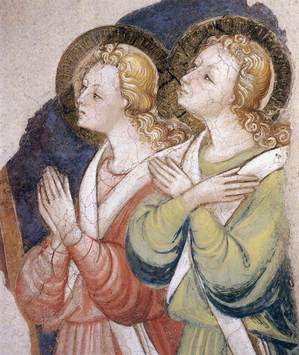 Behold, I send an angel before you, to guard you on the way and to bring you to the place I have prepared. Give heed to him and hearken to his voice, do no rebel against him, for he will not pardon your transgression; for my name is in him. (Exodus 23:20)
We pray:
O leaders of the heavenly armies, although we are always unworthy, we beseech you that with your prayers you may encircle us with the protection of the wings of your angelic glory. Watch over us as we bow low and earnestly cry out to you: Deliver us from trouble, O princes of the heavenly armies.
Plus,
Angel of God, my Guardian dear, to whom His love commits me here, ever this day (night) be at my side, to light and guard, to rule and guide. Amen.
Let's remember Abbot Hugh Anderson, abbot-president and the Benedictine monks of the American Cassinese Congregation who observe today as a patronal feast of their congregation.