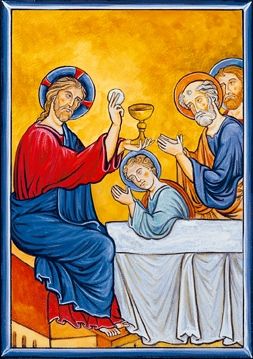 Some friends and I at the parish have been reading a series of Pope Benedict's homilies on the Eucharist taken from his book, God is Near Us. I recommend paying attention to every page of this small collection of Benedict's. Reading through some meditations of Blessed Columba Marmion, the famed Benedictine monk and spiritual master struck me. He wrote,
To believe that Jesus is God, is to acknowledge that He has every right over us, it is to surrender ourselves to Him without reserve, to allow Him to act in us as absolute Master.
When we live by this faith, we say to Our Lord: "I love Thee, I adore Thee, I give myself to Thee by my submission to Thine every will, by leaving all that Thou does desire of me; I wish to live in complete dependence on Thee." Then Christ takes us by the hand and draws us close union with Himself.
Moreover, faith in the Divinity of Jesus produces great confidence in our souls. His merits are those of a God, therefore they are infinite, and they are ours, we may dispose of them. His redeeming blood can blot out all our sins and all our infidelities; we may hope for all the graces of which we have need, for He intercedes for us.
United to His intercession and clad with His merits, let us not fear to draw nigh to the Father and to speak to Him, in the Name of His Son, with unshaken and boundless trust.
Blessed Columba Marmion, OSB
Revue Liturgique et Monastique