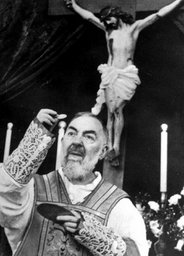 An email friend,
Patty in CT
, just told me that Saint Pio's relics will be at the
National Shrine of Our Lady of LaSalette
, Attleboro, MA.
St Padre Pio Pilgrimage Day
Saturday, September 25
the day begins at 10:00 am, there are 2 talks, lunch, confessions, adoration of the Blessed Sacrament. The day concludes with a 4:30 pm Mass & veneration of Saint Pio's relics.
register by calling 508-222-5410