The Lord opened his mouth in the assembly, and filled him with the spirit of wisdom and understanding, and clothed him in a robe of glory.
God of truth, You gave Your Church a new light in the life and preaching of our father Dominic. Give us the help we need to support our preaching by holy and simple lives.
Blessed Cecilia's description of Saint Dominic is how we know what he looked liked. And we have to be grateful for ancient chroniclers! They not only feed our curiosity but they show us concrete expressions of how God works through humanity … Descriptions like this one help us imagine what a person 8 centuries looked which helps to connect more closely to his reality. Blessed Cecilia wrote: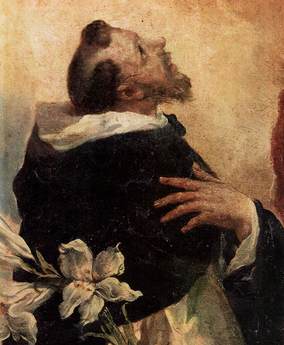 "This was St Dominic's appearance. He was of
middle height and slender figure, of handsome and somewhat ruddy countenance,
his hair and beard of auburn, and with lustrous eyes. From out his forehead and
between his eye brows a radiant light shone forth, which drew everyone to
revere and love him. He was always joyous and cheerful, except when moved to
compassion at anyone's sorrows. His hands were beautiful and tapering; his
voice was clear, noble, and musical; he was never bald, but kept his religious
tonsure entire, mingled here and there with a few grey hairs." (From the
Legend of St. Dominic by Bl. Cecilia Cesarini)
A blessed feast of Saint Dominic, the great light to the Church!