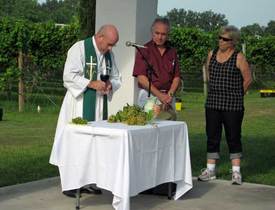 A pious liturgical custom is for the priest to bless grapes on the feast of the Transfiguration of the Lord. Why do we bless grapes on the Transfiguration? Symbolically and on a concrete level grapes represent real transformation, an old vine produces new fruit, a new harvest for God. As the Lord was transfigured on Mount Tabor, so we too are given the grace by God to transform our lives more and more according to His will, the Gospel. The hard of personal conversion is done by authentically following the Church. 
Theologically, one might say that the grape is symbolic of new life; think of the fruit derived from grapes, wine, used at Mass. That after the overshadowing of the Holy Spirit and the prayer of consecration the wine becomes the Precious Blood of Christ. It is by His Blood we are saved, given new life, a pledge of future glory with the Blessed Trinity in heaven. Many liturgical families, including the Latin, Byzantine and Armenian Churches have a liturgical theology and rite for the blessing of grapes and situate the blessing of grapes as a needed reminder of our real and on-going conversion to Christ in hearts and minds of Catholics. (Read this blog post on the blessing of grapes where the author brings together several elements: work, harvest, offering, human transformation by God, liturgy, new life, etc.). 
The prayer
Priest: Our help is in the name of the Lord.
Response: Who made heaven and earth.
Priest: Let us pray to the Lord.
Response: Lord, have mercy.
Bless, O Father, this new fruit of the vine, which you permitted to ripen through good weather, and drops of dew and may it bring joy for us who will partake of this fruit of the vine, and forgiveness of sins to those who offer it, through the pure Body and Blood of Your Christ, with whom You are blessed, together with Your all holy, good and life-giving Spirit, now and always and forever and ever.
R. Amen.
(this blessing is taken from the August Menaion, Byzantine Melkite Euchologion published by the Melkite Eparchy of Newton.)